Essex County ResourceNet is a free web directory of programs, supports, services and events for families. It is mobile friendly, and can be translated to different languages, printed or shared through social media. Across the bottom of each ResourceNet is a banner that includes links to all other connected ResourceNets.

NJCMO is a collection of all 15 Care Management Organizations in NJ. It was formed to encourage collaboration and cooperation among all CMOs, educate the community on the role of the CMO and how we help youth and families, assist youth and families connect to needed resources, and provide a broader voice across the state for CMOs. NJCMOs provide services for Mental Health, Substance Abuse, Developmental Disabilities, Court Involvement and School Involvement.

The Mission of the Statewide Parent Advocacy Network is to empower families and inform and involve professionals and other individuals interested in the healthy development and educational rights of children. Through this collaboration, all children will become fully participating and contributing members of our communities and society.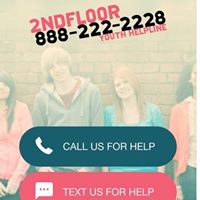 2NDFLOOR is a youth helpline designed to listen, help and guide youth in addressing challenges. Periodically, calls may be monitored for quality assurance and training purposes. You are assured anonymity and confidentiality, except in life-threatening situations. When receiving such an emergency phone call, 2NDFLOOR staff will initiate emergency call - trace procedures (within the capability of currently available technology) for police intervention.